The project
In 2009, the world has reached a very sad milestone - more than one billion men, women and children know what it's like to go to bed hungry. That's why we, Lionel and Laurent, have decided to take action.
Together we'll be cycling 1000km from Phnom Penh all the way to Bangkok to raise awareness for the fight against hunger. Our journey will take us through Cambodia, where the World Food Programme is on the ground providing vital food to some of the world's most vulnerable people.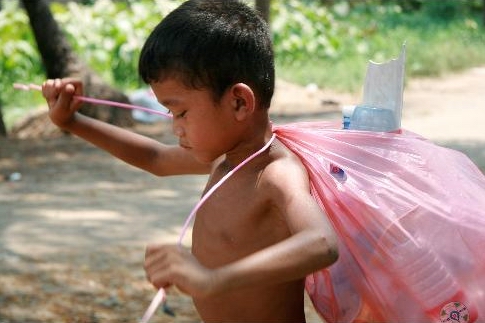 Situation in Cambodia
35% of the population living below the poverty line.

Malnutrition, particularly among children under five years and nursing women.

Repeated natural disasters.

Lack of adequate rural credit.

Lack of irrigation.

Limited off-farm employment opportunities.
WFP Activities in Cambodia
Assisting over one million people.

The majority of the activities are food-for-work schemes such as the construction or rehabilitation of irrigation canals, road, etc.

Improve the immediate and sustainable food security for the hungry poor in crisis.

Support to Maternal and Child Health which addresses the nutritional needs of pregnant and lactating women, as well as young children between 6-24 months.
Why cycling Cambodia?
· To federate donations in order to help the WFP in its activities.
· To meet its rural populations, witness to their difficulties and the help they receive through your donations.
· Slow and respectful means of transport, the bicycle allows a more direct and faster contact with the local population and its culture.
Project Funding
Please join us and support the World Hunger Relief campaign. A donation today will feed families tomorrow.
Together we can move from hunger to hope!