September 22nd 2009 - Bangkok
We have an appointment at ten o'clock in the WFP office in Bangkok, from which is managed and analyzed all the projects in Asia. The welcome is really friendly. Lionel speaks about our journey to a score of WFP staff in a conference room. It is then their turn to present us a very interesting slide show regarding the activity in the Asian region. We also have a tour of the office with explanations on the activities of each other. The number of people suffering from hunger worldwide is estimated at 1.2 billion of which 642 million live in Asia.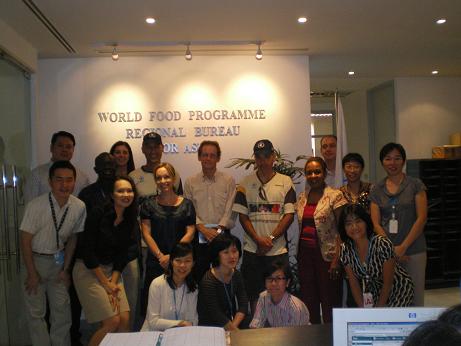 Laurent asks about methods for evaluating the effectiveness of the different programs. One of the programs mentioned as example for Cambodia is the one of school meals, for which evaluation criteria are defined for example by the number of entries before and after the implementation of this program, absenteeism and school achievement. This program is a true success because it allows many poor children to follow a curriculum without being hungry and to be better equipped to cope in the future.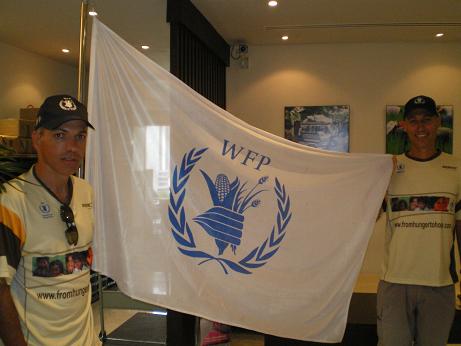 It is expected that following the visit of WFP, we go and say hello to Lionel's colleagues based in Thailand. We are received like real heroes, with applause, congratulatory messages and even a gift typically Thai. We did not expect such a warm welcome. A big thank you to everyone of you for being there to greet us at the end of this cycling trip which we hope will contribute even modestly to encourage solidarity with those who are not always visible, but who suffer from extreme poverty.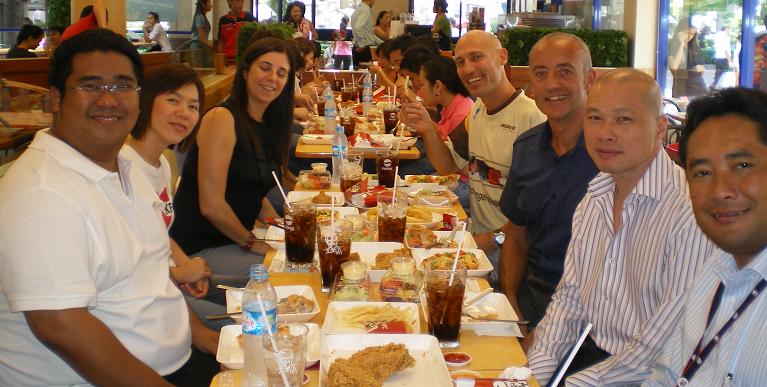 Having reached the end of the trip, we also wish to thank all the staff of WFP around the world who enables that donations are concretized in real long-term projects to aid self-sufficiency and who makes a great job in this way. And thank you to all our readers, donators and companies that employ us and which gave us a very strong support to this cause.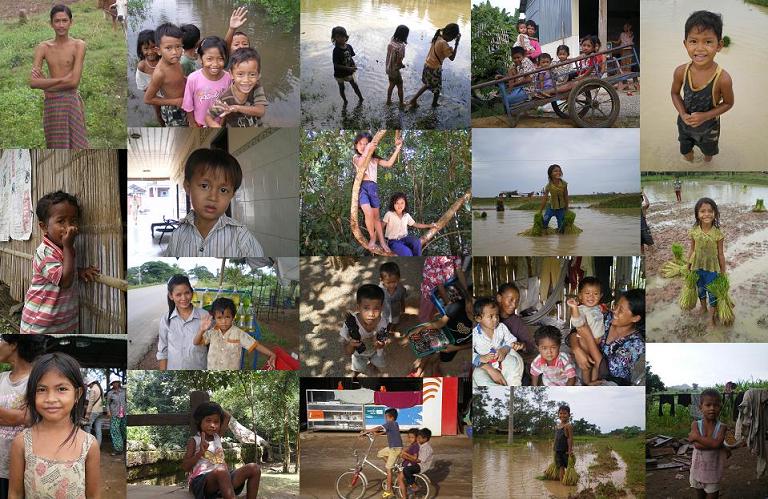 It is clear that the fight is not over. Giving a share of the "superfluous" we have to help those who lack the vital need must become a reflex of life in our privileged societies. The book "Save a Life" by Peter Singer has helped us grow this feeling of solidarity in us tremendously during this trip. It also helped us understand the mechanisms that can keep us from giving. If, like us, you want to learn more details of the fight against poverty, you should obtain a copy of this book which makes very concrete proposals to overcome it.