September 16th - Chanthaburi
After a night sleep as short as the previous ones, here we are on the track that leads to the Thai border. Note that this area is still infested with landmines, because until 1994 these mountains served as "hiding" for some senior Khmers Rouges leaders. It is therefore highly advisable not to leave the road.
Some parts of the track are quite narrow. We are glad not to be driving a car ...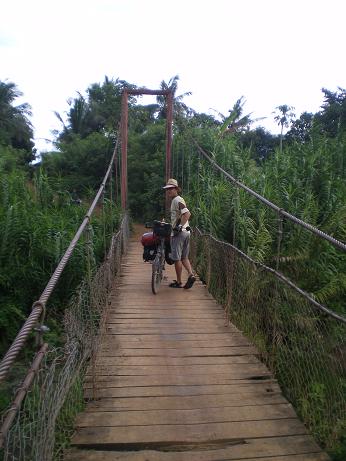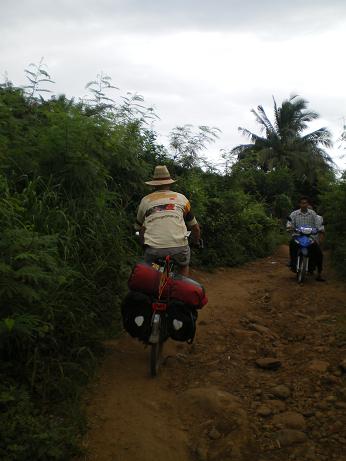 More climb, descent, climb, etc.. But this time it's under the rain that we cycle and it is going to last.
In a remote area, we see a shelter with a family that seems to live there. No electricity or running water, but a big plastic tank to collect the rainwater. We stop there to meet with the family and to donate our few Cambodian bank notes left, knowing that we will not need them anymore. Surprisingly, the only person who speaks one or two words of English is the mother. She explains with great difficulty that she has learned with a book, which she finally found; a very old book with torn pages containing lessons with exercises.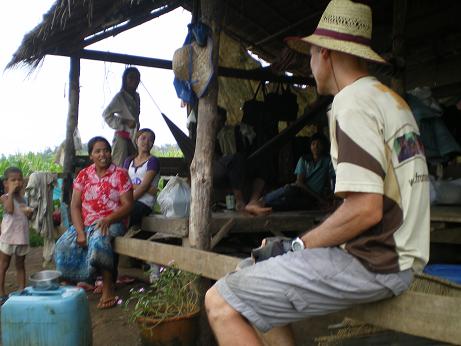 We try to get to know them a little better. As always, it is quite simply that these people invite us to sit and share a moment of life.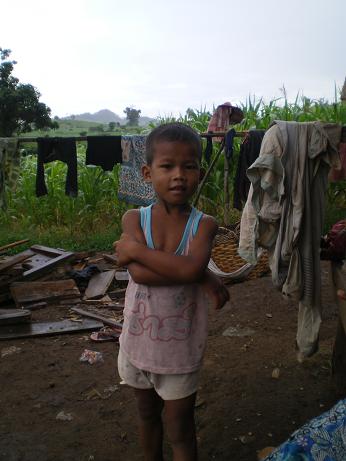 After saying goodbye to our hosts, we cycle the final kilometers that lead us to the Thai border of Banpakkad. Here we are leaving Cambodia.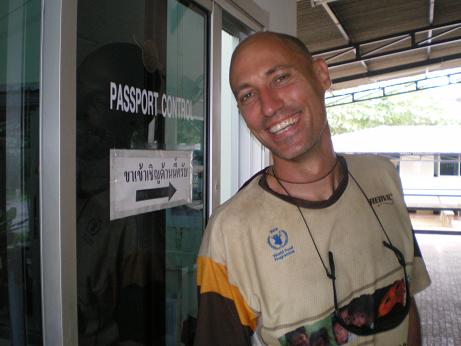 After an hour of formalities, we are free to travel on Thai roads. We still have 70km to go to reach Chanthaburi, our today's destination. We are still in the mountains, but this time on a perfectly paved road..
After a few hours cycling at a good pace and always in the rain, we arrive at destination. This city has a trade almost exclusively focused on precious stones and jewels. Indeed, every 10 meters is a jeweler. We are tired and have mixed feelings: the cheerful greeting children of Cambodia will be missed, but on the other hand, we know that here in Thailand everything will be easier; communication, food, internet connections and the road.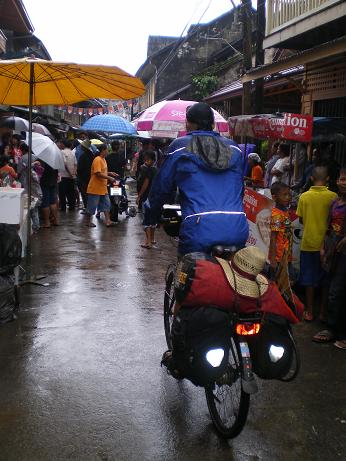 .
In the program we have scheduled two extra days to rest or unforeseeable delays. We therefore intend to stay two nights here to rest a little, because the very fast pace that we've had so far suggests that we do not force on the machine.
We take this opportunity to thank all who have sent warm messages during our Cambodian journey. If you want to write an SMS in Thailand, please do not hesitate +66 860494120 :-)