September 10th 2009 - Kompong Kdei
It is the sound of torrential rain that accompanies our waking. After an hour, the rain still falling and not seeming to want to stop, we decide to leave. We are, at this time, far from doubting of the surprises that this day will reserve us...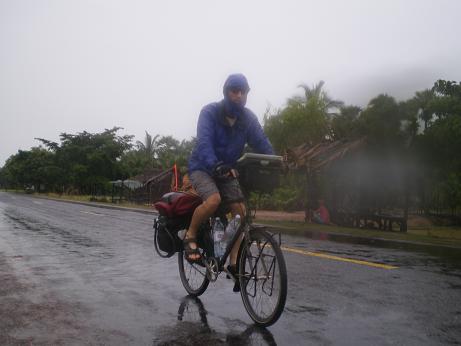 After two hours of cycling under a heavy rain, we stop, a little curious to see what these people make with this big "foot pestle" along the road.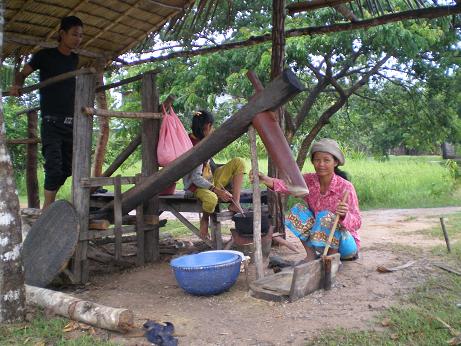 According to our observations, it seems to be cooked and grilled rice, which is crushed, flattened and mixed before being sold for pennies on the few passing vehicles that stop there.
We take the road again with the certitude of reaching our destination in record time, powered by loads of vitamins swallowed in the morning (dragon fruits and bananas). But, soon, a first obstacle rises in front of us and slows us down somewhat. Probably hard to believe, but the following pictures were not taken in a lake, but .... on the road!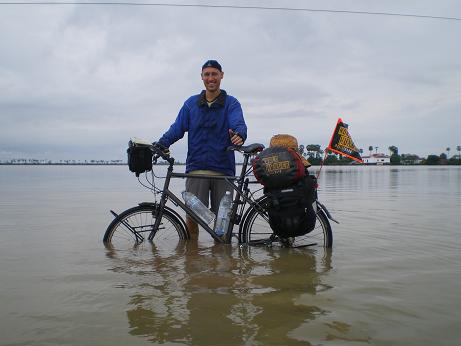 Lionel is probably wondering where the asphalt is.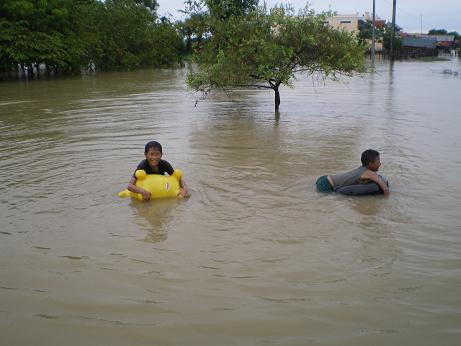 These kids are swimming on the National Road 6!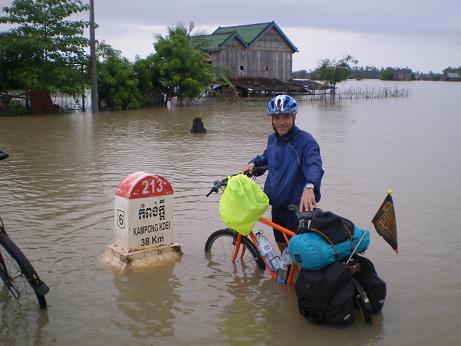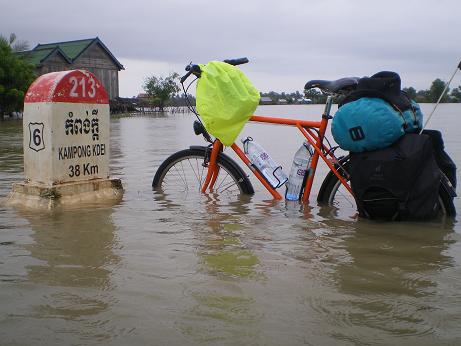 Wow, apparently we are well on the road; a sign indicates our day's destination!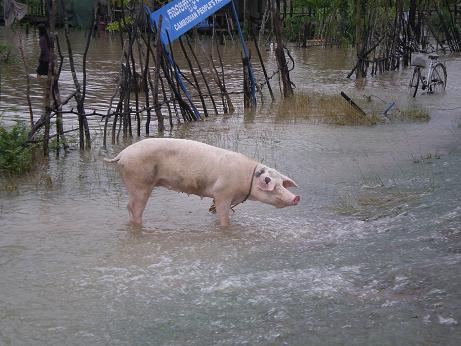 The first obstacle passed, we start having a thought for those who live in flooded houses much of the year.
We are convinced that nothing will delay us. Mistake .... Laurent's front tire is rewarded with a nice piece of glass. It is our first flat.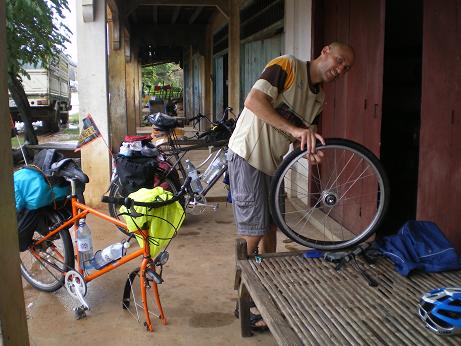 We are pleased to have taken the necessary repair kit, because in less than 15 minutes we are ready to ride again. We push hard on the pedals, the muscles respond to a quarter turn, we are beating the speed record. We almost forget to respond to the eternal and so friendly "Hello" from the children who have been enlightening our journey from the first day.
And what would happen, happened. By trying to beat a record, we are less cautious and our wheels eventually graze, touch, hit. Lionel falls on the asphalt. Luckily, no car is behind us, Lionel escapes with a few scratches at the foot, hip and elbow.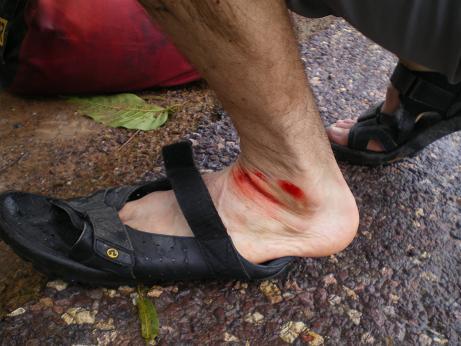 We leave more quietly pleased to have learned at so little cost that caution is always to be rigorous and it is useless to try to catch up, since it is impossible anyway. This more reasonable speed enables us to appreciate even more a few typical landscapes of the region.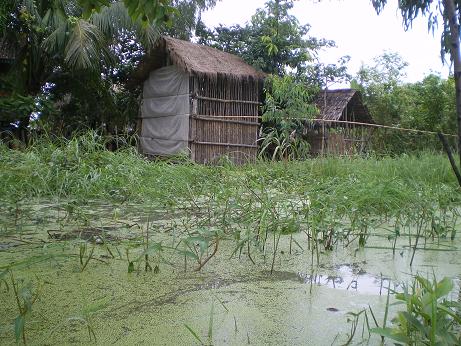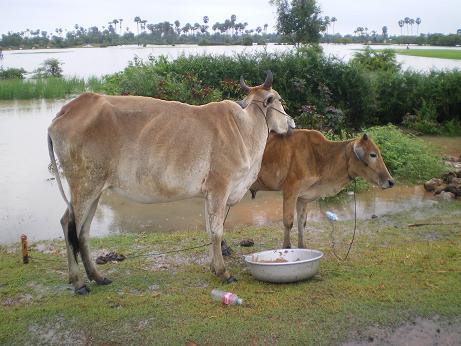 It's early afternoon when we finally reach our destination, Kompong Kdei. The sun, though shy, welcomes us.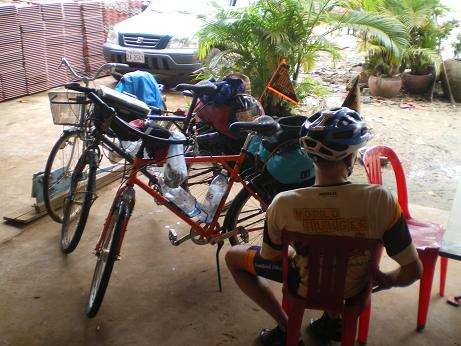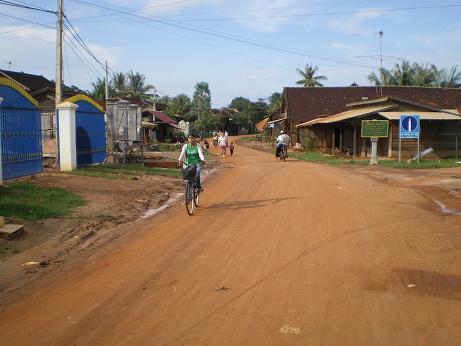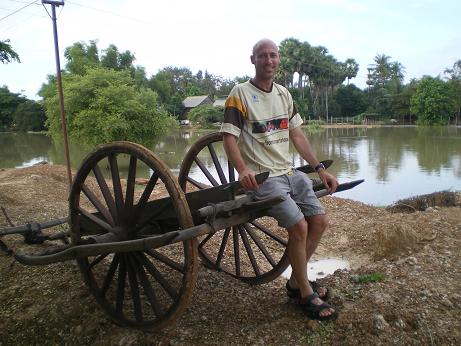 At the end of this day, which has been rather eventful, we would like to reiterate that, beyond the wild and sometimes unreasonable side in our journey, we want to show what we see; the sometimes extreme poverty of some residents of this country. If you have any reluctance to donate, consider the following situation: Imagine that you are near a lake, when suddenly your eyes are attracted by the disorderly movements of a drowning child. You can save him if you throw yourself in the water without waiting and fully clothed. You will certainly lose your brand new mobile phone and your nice shoes purchased a week earlier. In such a situation, we have no doubt that you will weigh the interests at stake and you decide, like most people, to jump to save the child. Yet, at the time you read this, children are drowning in poverty, dying of malnutrition and we have every means to save them. We can certainely not save the whole world us alone, but we can save children who are just as real as those you have around you, your families and relatives. No need to sacrifice your latest gadget or fashion shoes. Give the money to an association that is on the ground and makes effective labor is the easiest way to save these lives. You can believe us, the poverty of some of these families probably far exceed what you can imagine. Why helping people who are so far away? Simply because the challenges they face are far greater than the poor in our rich countries. Poverty can be eradicated with a fully natural vaccine called Solidarity. Why WFP? Simply because a major cause of death in poor areas is malnutrition. Lack of food causes illness, growth problems and sometimes death. Attacking the problem at its source seems logical. So go ahead, please visit our page "Participate!" and donate!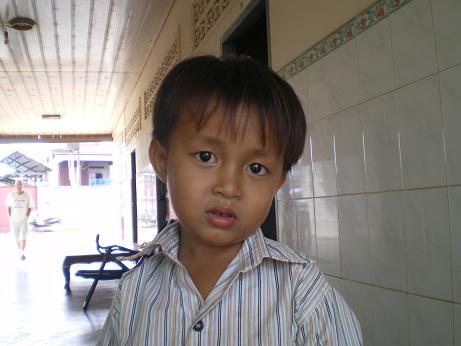 THANK YOU!