September 13th 2009 - Sisophon
Today we have chosen to tell one of our days, so that you have a better idea of our schedule, duration of activities and just lifestyle.

At 5am, we get up after a short night's sleep. Soon we pick up the fruits that we bought the day before and eat a good breakfast; again the delicious durian, bananas, mangoes and dragon fruits. About an hour later we are busy hanging bags on the bikes.

At 6:20am we're on the road towards Sisophon. We cross a wealthier province than before. The road is desperately straight, bordered by rice paddies, but unfortunately no trees. The beautiful weather having set for good, we literally burn in the sun on our bikes, which we are pushing to speed.

The vitamins swallowed in the morning provide their effect; we cycle the 108 km without ever stopping, without putting foot on the ground, in 4 hours and 40 minutes of sustained effort.

12:00 we are already in the room of a colonial style guesthouse. We wash the clothes of the day before anything else.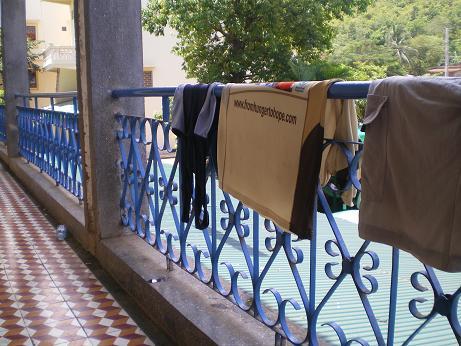 1pm: Shower with cold water, shaving, then an hour later we eat again some delicious fruits for lunch.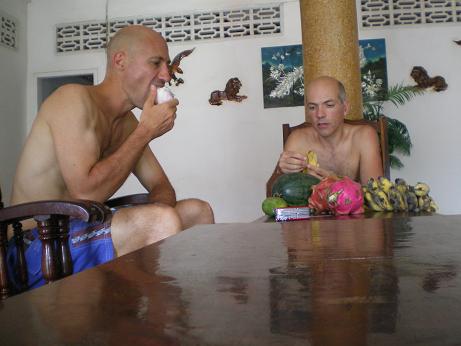 3pm: A two-hour nap to recover is needed.
5pm: Serious work begins. We connect the laptop to the Internet and begin updating the site. This work is long, because once the text is written in French, we translate it into English, select the pictures, update counters, picture of the day, etc.. Most of the time, it takes minimum 2 hours, but sometimes 3 hours or more.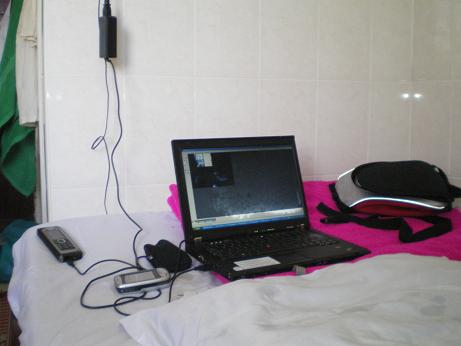 8pm: We go out to look for fruits for the next day and a small restaurant cheap and tasty, allowing us to eat a hot dish consisting of rice and vegetables.

11pm: Back to the guesthouse. We get ready for the next day, check the battery status of the camera, mobile phone, etc..

Midnight: It's time to sleep...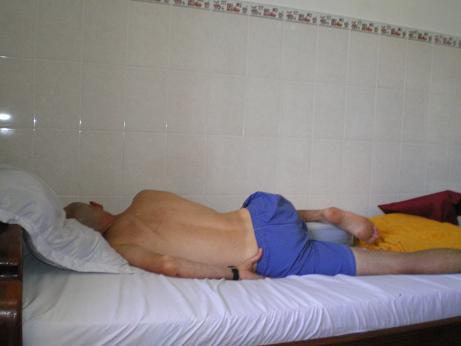 This is roughly our usual schedule. The main difference with the other days is that, in principle, we make several stops to meet with villagers, children or simply to take some pictures. Today, given the area we cycled through, we did not.

Do not forget to participate!